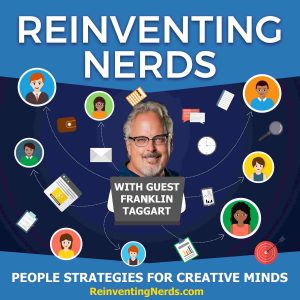 Joanie interviews Franklin Taggart, a mysterious nerd with an interesting past.  Franklin is a musician, podcaster, and audience coach.  He's an extremely creative nerd and, in this episode, he explains how creativity can actually make you unemployable–and how to get around that.
Highlights:
Q: Are you or are you not a nerd?  Or is it not a binary answer?
Franklin defines and expands the definition of "nerd."
Q: What's your story?
It was a long strange trip.  My employment history and my bank account both reflect a significant level of chaos.
Q: How do you communicate best?
With words.  Even though I score 100% introvert on the Myers-Briggs, I can talk about anything at the spur of the moment.
Q: How do you connect with your audience and help others connect with theirs?
Artists are usually really good at what they do, but marketing is a foreign language to them.
The biggest challenge for artists and some authors is being visible.  The first step is to find a level of visibility that is comfortable.  It may be a little bit of a stretch, but not diving into the deep end.  For examples, listen to the podcast.
Words of wisdom from Franklin:
"Failure is not trying.  Everything else is learning."
"Taylor Swift is not a country artist."
Contact Franklin:
Podcast: Play in new window | Download
Subscribe: Google Podcasts | Spotify | RSS | More