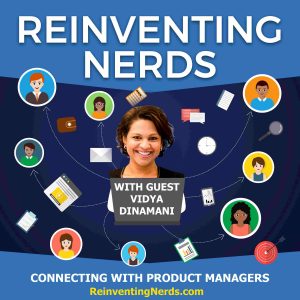 Joanie interviews Vidya Dinamani, founder of Product Rebels.  Vidya uses her impressive experience in product management to teach others how to do it.  She calls herself a fully qualified nerd, having started her career coding, with a physics degree in her pocket.  Vidya is quite articulate and has really nailed how developers and product managers can work together successfully.  She doesn't go with the canned messages, but rather has her own that will no doubt resonate with you.
Highlights:
Q: What kinds of nerds do you work with?
"I have been very lucky to work with some really awesome nerds, some really smart people. I worked at Intuit for ten years. Intuit attracts great people—engineers, designers, researchers, product managers.  There really isn't a dud among them. At Mitchell, I worked with product design teams.  I've worked with and coached hundreds of product managers.  We always extend to working with engineers as well.  You can't have one without the other; it's symbiotic."
Q: What do you mean by product management and design being like a marriage?
"Think about it.  You spend more time together than you probably do with your spouse.  It's like a marriage whether you like it or not.  When I think about a great relationship, a great marriage, I think about having someone on your side, someone who's got your back."
Q: What kind of challenges tend to arise in this relationship from the product management perspective?
"A product manager is the representative of the customer at the table.  People who are good product managers take that very seriously.  They take the solutions to make sure they really work for the customer.  When you get deep into your customer's shoes and see the solutions, you jump into the 'how.'"
"We're all problem solvers, as nerds.  This is why we do what we do. We often throw solutions at problems.  That gets us into trouble when we don't step back.  You've got to think about a problem in a way that whether you and your elegant product existed or not, the customer still has the problem.  That's really hard to do."
Q: How do you help customers understand they may not know what their problem is?
"A lot of time, asking the customer what they want isn't the way to do it.  You have to watch the customer in their natural habitat.  You turn these observations into fully formed sentences.  Then the magic of product management happens.  You get "ahas."  You create hypotheses.  Product managers spend a lot of time testing their hypotheses and then go to the engineers when they've figured out the problem. Then they talk through solutions."
Q: How does trust break down between development and product management?
"It can feel like high-level business speak to say, 'we're all on the same team.'  It can feel like something different when you're trying to get a product out.  The developer is trying to get the best, most elegant solution.  The trust breaks down when they're being told what to do.  When the trust breaks down, the product manager feels like the only thing to do is to tell them exactly what to do."
Q: How do you reduce barriers to trust?
"I like decision matrices.  I invite you into my world, but I am the decision-maker.  When it's my world, I make the decision.  When it's your world, I can contribute, but the engineer makes the decision."
To hear more about respecting boundaries, setting roles, and trusting others, and much much more, listen to the episode.
Words of Wisdom:
"Share the pen."
"You've got to be okay with others being wrong and turn it into a learning mindset."
"You've got to be bold to try things you're going to be surprised with."
"Ask 'why' next time in a meeting."
Contact Vidya Dinamani:
Website: productrebels.com
Email: vidya@productrebels.com
Twitter: @vdinamani
Podcast: Play in new window | Download
Subscribe: Google Podcasts | Spotify | RSS | More