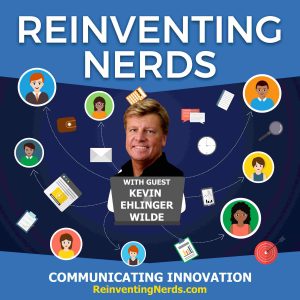 Joanie interviews Kevin Ehlinger-Wilde, a nationally award-winning creative entrepreneur, speaker, and innovation trainer who has worked with over 500 executives and companies across the country.  He's an expert on the TIPS personality profiling tool and he has offered our nerd community a special offer.
Get a free overview of all of the TIPS profiles: www.wildespark.com/reinventing-nerds.

The first 20 people who visit will get a free TIPS assessment!
Highlights:
Q: Kevin, you've worked with numerous executives.  What are some of the challenges you've faced in working with them?
"People in the Sales Department tend to be more on the creative side. The IT people tend to be more systems oriented.  You're dealing with a lot of different people who want information in different ways."
Q: How do you know what your audience is?
"Sometimes it's based on the skills they already have.  Sometimes it's based on key indicators, like if their eyes are glazing over."
Q: Tell us about TIPS.
"It's a profile system, like Myers-Briggs on steroids…  As we go through TIPS, we learn how people like to be presented with things."
"For example, with the Thinking Style, some people are very figure oriented.  They like facts and numbers.  Others are very fantasy oriented.  A lot of systems people are figure oriented.  A lot of entrepreneurs and people in Marketing are in the fantasy world."
Q: How do you make it so people aren't at each other's throats?
"That's management–how do you put together teams that can function at a high level?  The idea of using tools like TIPS is so people can understand where everybody can help, where everybody can work, and then what's the best way to put together teams."
Q: How do you put together innovative teams?
"Let's talk about innovation styles.  Some people are very innovative or they are adaptive.  The adaptive people look at small, incremental changes, like adding wheels to a chair.  The innovative people will ask whether we need a chair at all."
Q: How do you avoid feeling pigeon holed?
"We all have strengths and weaknesses.  It's not a matter of being pigeon holed.  We all have value in everything we do.  Theorists develop ideas.  Entrepreneurs build businesses.  Systems people organize.  Innovation is messy and chaotic.  The most successful companies have figured out how to systematize, keep doing what we do really well, then branch out.  We all have a role.  We all play a critical role in the company in every stage."
Words of Wisdom:
"Change can be really tough for a lot of people.  The more you're open to change, the more you're open to new ideas of how things can be done."
"We're all born 100% creative but we're taught to conform."
Contact Kevin:
Website: www.wildespark.com
LinkedIn: https://www.linkedin.com/in/kevinehlinger/
Podcast: Play in new window | Download
Subscribe: Google Podcasts | Spotify | RSS | More