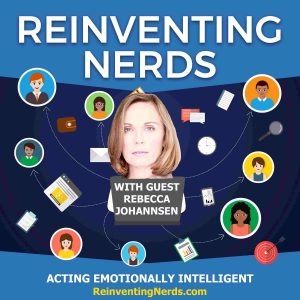 Joanie Interviews Rebecca Johannsen, a people expert.  Rebecca is a corporate trainer who has a Ph.D. in theater.  She writes and directs plays and, of course, she's a skilled actor.  She's taken her knowledge and skills in acting to teach executives soft skills.  It's a really interesting approach and I highly encourage you to listen to this episode.  It's truly unique and very informative.
Highlights:
Q: How did you start doing executive development?
"About ten years ago, I put together a course called 'Acting for Executives' at the Rady School of Management at UCSD.  I've since developed several different courses in soft skills areas using techniques that actors use in the theater for training their voices, understanding their bodies, thinking quickly on their feet, overcoming fear and nerves, and communicating effectively. I focus largely on emotional intelligence."
Q: On Reinventing Nerds, we talk about how people communicate in a way that's authentic.  How do you handle authenticity with your acting approach?
"One of the things we learn early on in actor training is that acting is really about tapping into authenticity and truth and finding your own truth within a character that may be different from you… We can tell when somebody is being fake.  The best actors find that truth within themselves."
Q: How does emotional intelligence come into play?
"One of the key skills for any performer is the ability to listen, the ability to listen actively and to read how somebody is responding to you emotionally. That's one of the foundations of emotional intelligence.  We break it down into four different areas: self-awareness, self-management, social awareness and relationship management.
"The self part is having an awareness that I'm having an emotion.  Once you have that awareness, what do you do with that emotion?  Is that a useful emotion for me to be having now?  If not, how do I adjust? The social part is being able to recognize that someone is having an emotional response to what I'm saying and how do I adjust?"
Q: What comes up for the nerds that you work with?
"I've learned with many of the nerds I work with that, because they are so focused on solving a problem by working at a computer, they oftentimes are not that connected to their body language or how they are coming across to other people and oftentimes have challenges with eye contact."
To hear Rebecca's solutions, listen to the episode.
Words of Wisdom:
"Ninety-three percent of our message that we're trying to communicate with people is nonverbal."
"The people who are more emotionally intelligent are in more subordinate positions."
"Research shows men and women have a different biological makeup of their brains that impacts communication breakdowns."
Contact Rebecca Johannsen:
Website: rebeccajohannsen.com
LinkedIn: https://www.linkedin.com/in/rebecca-johannsen-56622a7/
Podcast: Play in new window | Download
Subscribe: Google Podcasts | Spotify | RSS | More