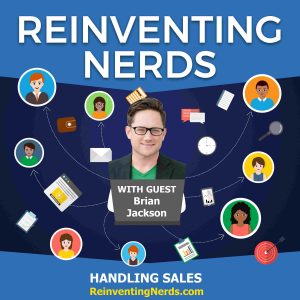 A nerd at heart, Brian Jackson is the president and owner of Sandler Training of San Diego, a sales training company.  Brian enjoys coaching customer-facing people who are engaged in selling within Software, Technology, Manufacturing, and Professional Services.  Prior to owning Sandler, Brian invested over 20 years in hospital equipment & software sales and leadership roles.  Brian gives a unique perspective to nerds and sales, having played both sides, interfaced between the two, and trained and coached salespeople of all backgrounds.  He's also a funny guy and you'll enjoy his insights.
Highlights:
Q: Let's start by hearing your story.  What brought you to buying and running Sandler San Diego?
"Having a slightly lower than average IQ."  [But, seriously!]  "I graduated college and wanted to make money and got straight into sales.  I wanted to sell products I was passionate about and I gravitated toward medical devices and, later, medical device software.  After about 20 years selling a half dozen products and managing people for the last 12 of those years, I found that my passion was not in the technology.  It was in the art of selling and coaching other people and seeing them succeed and rise in the ranks.  I really got a lot of satisfaction out of that."
"I was a client of Sandler many years ago and always had it in the back of my mind that I might want to do that.  So, I pulled the trigger."
Q: What is Sandler Training?
"It's a sales methodology that's embedded in psychology.  The main thing about Sandler that is different is that we really believe in the power of reinforcement.  You can't change the way you think and behave by going to a 2-hour boot camp.  It takes repetition.  We use blended learning and repetition to rewire the brain."
Q: What was your experience like working with technical people—developers, scientists—and having them interface with customers?
"The challenge with selling technology is not understanding the technology.  Salespeople are more intelligent than people give them credit for.  We can learn something if we try hard enough.  The challenge isn't learning the technology.  The challenge is knowing when to use the knowledge appropriately.  It's about having the discipline to not talk about the product knowledge until the right time.  In spite of the fact that you're excited about the technology."
"When you're working with technical people, product specialists, these are people who know a lot about the product.  They're given a chance to talk to the customer prospect and they feel it's their job to come in and talk about the product information.  As a salesperson, you have to pull back the reigns and sometimes even do damage control.  It's important to remember that your product knowledge is your leverage when you're in a selling situation.  Once that prospect has that knowledge, that's what they came for.  It's not necessarily to make a decision.  It's to gather information.  Once they have all the information, you're dead in the water."
To learn more about how technical people are dealing directly with customers, such as SaaS companies, and Brian's advice to technical people who are dealing with salespeople and with customers directly, listen to the episode.  Brian also gives advice on technical leadership from his years of experience doing it.
Words of Wisdom:
There's a reason why people are tense when they are in a buying situation.
Team selling is pretty cool.  Everyone has a different role.
Good people, by and large, are being promoted into a management role and they're expected to know how to do it.
It's not uncommon for people going through a promotion to have other things going on in their lives too.
Emotional Intelligence should be taught in college.
Contact Brian Jackson:
Cell phone: 619-368-6215
Linkedin:  @SandlerTraining
Website:  www.salesrevenue.sandler.com
Facebook:  @SandlerSanDiego
Twitter:  @Sales_Coach_SD
Podcast: Play in new window | Download
Subscribe: Google Podcasts | Spotify | RSS | More