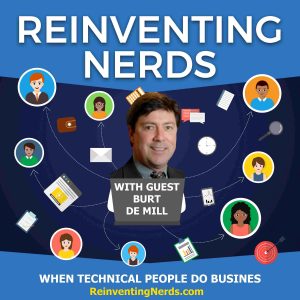 Burt De Mill is the President of BDM Consulting, a San Diego based consulting firm that works with small and medium sized companies who are in the biotechnology tools and clinical diagnostics spaces.  Burt helps companies define their products and markets, conduct new market research, and launch products.  Burt talks about the challenges scientists encounter when they interface with the business world.
Highlights:
Q: Burt, you are a scientist by training.  How did you move into business?
"I wanted to be a doctor.  I was the kid who wanted the chemistry set and microscope for Christmas.  I was a chemistry and biology major at the University of Maryland.  Then I applied to medical school and didn't get in."
"While I kept trying, I worked at Johns Hopkins Hospital doing cancer research.  I was working with a very prestigious physician, Dr. Philip Burke, who said to me after I gave a presentation, 'Burt, good job, but I noticed you had more fun doing the presentation than doing the work.'  I realized that I do like talking about the work.  I was also taking business classes there for free while I worked.  I felt that business was like a duck swimming on the lake to me.  It was simple.  It was easy.  That's kind of how I ended up the failed scientist turned into a business guy."
"I made that split over 25 years ago and never looked back.  I still do have a soft spot for the science, but I like it in a business context."
Q: As the Sr. Vice President of Sales & Marketing at Genoptix Medical Labs back in 2005, how did you scale revenues from $4M to $184M in 5 years?
"It was kind of like running a marathon with your hair on fire, but it was kind of fun!  It was fun because we were building something.  There were some key points.  One was timing.  That's something you can't plan for, but it's important for a business.  Is it the right business concept at the right time?  Is society ready for it?  Are customers ready for it?  A lot of good businesses are the benefactor of that."
"There were three key things that we did.  We knew who our customers were and who they were not.  That is incredibly important for a startup….  We surrounded ourselves with a fabulous team…  The last one is we measured things.  This is really important when you scale…"  To hear the details, listen to the episode.
Q: As a leader, how does it feel it to not be the one doing it all but getting others in to do it?
"In the consulting business I'm in now, I work with some incredibly smart people—PhDs, MDs.  The talent is enormous in what I call their vertical.  They know that enzyme or they know that diagnostic test like the back of their hand.  But it's very hard to be an expert in all areas.  One of the things I'd advise founders not to do is to get caught up in what I call 'founder's syndrome.'  Founder's syndrome is: it's my baby, I'm going to hang on to it all the way through, and I'm afraid to let anybody touch it because it's my child.  Most of the time, it does not go to a good place."
To hear what Burt recommends to prevent founder's syndrome and what other leadership challenges he sees when he consults to small businesses, listen to the episode.  Burt has some great advice for technical leaders.
Words of Wisdom:
"Failure's not a bad thing.  Sometimes you learn a lot about yourself."
"You can't be good at everything, so you have to rely on your team."
"If you can't measure it, it didn't happen."
"Scientists also have to sell to bankers and lawyers and business people."
Shout Out:
To the Rady School of Management at UCSD for helping science majors get exposure to business at the undergraduate level.
Contact Burt De Mill for a free one-hour consultation:
Email: burt@bdmconsulting.org
Phone: 760-707-9519 from 8:30 a.m. to 5:00 p.m. Pacific time.
Podcast: Play in new window | Download
Subscribe: Google Podcasts | Spotify | RSS | More