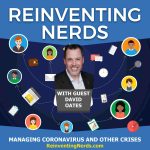 David Oates is a Crisis PR expert with 25 years of experience in the field. He helps organizations repair their brand's reputation in the press and online. He can handle any Crisis PR situation and train others to do the same. As a U.S. Navy Public Affairs Officer and a corporate PR professional, he dealt with a broad range of Crisis PR issues. These include mass layoffs, large-scale accidents, product recall, inappropriate acts by executives, and more. He's also been a key advisor for companies during the Coronavirus crisis. Do you know what to do—and what NOT to do—in these situations?  Listen to the episode.
Highlights:
Q: Tell us your story of how you've worked with nerds on PR crisis management and in what contexts.
"I was an officer in the Navy and, in the mid-nineties, I became a PR Officer.  Crisis was just a part of the day's activities.  As you can imagine, in the military you're in foreign ports of call, you're in combat situations.  There are 24-hour very heavy industrial operations, so accidents, sailors and marines behaving badly, different hot war engagements and so on."
"After that, I went into corporate America.  I worked largely, but not exclusively, with startups and small cap publicly traded companies.  The things that we would work on, in addition to promoting their software products, was if there were adverse news events that would occur that would get the ire of not just the press, but also of their highly trained employees that they were trying to keep.  Just as important to them were their customers and their investors."
"Those types of scenarios were such that when there were things they didn't want to talk about, I had to get them prepared to talk about them—in such a way as to allay the concerns of employees, who were going to go literally across the street to the next job opportunity, and investors who were going to be reticent about getting the next round of funding closed or secured, while keeping the executive team intact, and certainly customers who were taking the risk to go with this new product in beta mode."
"I was also head of marketing in-house for a software company and, about 13 years ago, I went out on my own.  It's been a great ride!"
Q: What constitutes a Crisis PR event and who is involved, especially in technical companies?
"When folks think about PR, and certainly Crisis PR, they naturally default to the news organizations and the general public.  That's good to focus on, but often focusing on that is at the detriment of focusing on even more important audiences—employees, customers, partners, investors, and other stakeholders.  Notice I named employees first."
"There are two things to think about with employees.  First off, they are the ones who are dealing with the customers and stakeholders on a daily basis.  They are the front lines of you being able to articulate a value proposition and deliver on that.  If the employees are not told what's going on, and are not addressed on their concerns, and are not able to be empowered with messaging to say to the other stakeholders, you're done.  You won't repair yourself."
"I don't care what you say to a reporter or to a news organization.  If the employees don't buy into it and are not brought in to help you through it, the story will linger.  It will then perpetuate on the blogosphere.  Google will index it.  You'll then see negative reviews on things like Glassdoor and other tech review sites.  Blog reviews, like Mashable and TechCrunch will pick up on that and it will be a real mess.  This is most important for tech companies."
Listen in to hear answers to these questions too.
What kinds of challenges do technical leaders tend to have in responding to a crisis PR event?  How do handle Coronavirus Crisis PR and other similar health situations.  What should you NEVER do in a Crisis PR situation?
Words of Wisdom:
Employees are going to be the backbone of whether you make it through an adverse event.
Nowadays, everyone is a broadcaster.
When employees are ticked off, do they wait until the end of the day to post something about work?
There are two things you do in every Crisis PR situation: show empathy and action.
People respond to an event with emotions first and logic after.
You can't ignore the people shouting at you even though you disagree with their response.
Contact David Oates:
Website: Publicrelationssecurity.com
Email: david@publicrelationssecurity.com
LinkedIn: https://www.linkedin.com/in/davidoates/
Podcast: Play in new window | Download
Subscribe: Google Podcasts | Spotify | RSS | More