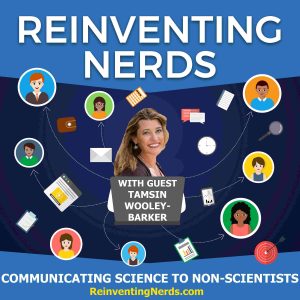 Joanie interviews Dr. Tamsin Woolley-Barker, an evolutionary biologist, business consultant, author, and speaker.  Dr. Tamsin helps companies look to nature for sustainable business solutions but not necessarily in the way you would think.  Tune in for an extremely interesting episode of Reinventing Nerds.
Highlights:
Q: How do you bring evolutionary biology to companies?
"I ask myself, 'How would nature design a company?'"
Q: How do you communicate with non-scientists?
"As scientists, everything is hypothesis driven.  For laypeople, it's not.  We're hardwired to tell stories. I try to meet people where they're at and bring them on a journey to a different world."
Q: What have you done to improve your communication skills as you moved from doctorate candidate to keynote speaker?
"Letting go of details while still being accurate."
Q: What's your biggest challenge with people skills?
"I'm an introvert and I talk a lot about collaboration.  Tamsin also helps other introverts collaborate."  To learn how, listen to the podcast…
Words of Wisdom from Dr. Tamsin:
"A lot of people were traumatized by science classes."
"Ants aren't sitting in traffic."
Contact Tasmin:
Website: DrTamsin.com
Twitter: BioInspired_Ink
FB: Dr. Tamsin
LinkedIn: Tamsin Woolley-Barker
Podcast: Play in new window | Download
Subscribe: Google Podcasts | Spotify | RSS | More