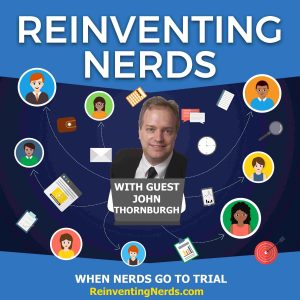 Are you looking for free legal advice?  Tune in as Joanie interviews John Thornburgh, a patent litigator and principal at Fish & Richardson, about the people skills you need if you go to trial over your technology.  Whether you're suing or being sued, you may end up testifying some day and it's a totally different language in court.  They don't speak in binary; interpreting the law lands you smack in the gray area.  This can be difficult for engineers and scientists who are used to being precisely correct or incorrect.  The lesson is that it takes a lot of work to prepare to explain technical things to judges and juries.
Highlights:
Q: Tell us about what you do.
"I'm a patent litigator, so I'm the kind of lawyer who helps to enforce patents in court and defend people who get sued.  I'm not the kind of lawyer who goes and obtains the patents.  We call them 'patent prosecutors.' They go to the patent office and file the patents.  Once people have patents, I go out and sue people or defend people.  It involves a lot of technology.  I have mostly over the years worked on computer cases both hardware and software, but I've also done all sorts of other things, like recently eye surgery and roller blades and all sorts of technical things."
Q: What's the major people challenge that you have to deal with in court?
"Lots of times we go to trial to enforce a patent and some of the jurors will probably have a college education and some will only have a high school education and they'll be asked to decide which Ph.D. expert is right about some circuit design.  If that sounds hard, it is.  It's hard for them, but they tend to take it very seriously.  One of our jobs as lawyers is to help our expert witnesses and our client witnesses explain these concepts to ordinary people in a way that will make sense.  We try to be accurate, but we try to focus on the key things that will decide the case and be understood."
Q: How do you know if the juries understand your message when you don't get feedback from them during trial?
"That's really hard because juries are generally not allowed to ask questions or tell you what they think.  There's a good reason for that.  In our judicial system, in general, we have rules of evidence so only certain questions can be asked.  For example, there's the rule against hearsay.  You can't say what somebody else said.  You have to say what's true that you have personal knowledge of.  You can't expect jurors to ask proper evidentiary questions, so that's the main reason they're not allowed to."
"In general, it's up to the lawyers to guess what questions the jurors may be having and ask those.  It's not a complete guess.  We have experience with this, and we do a lot of tests.  We hardly ever go to trial without practicing in front of a mock jury."
Q:  What kinds of people challenges come up for witnesses who have to testify in court, who may be engineers, coders, scientists, or inventors who are not expecting to speak to juries?
"We are typically working with engineers and scientists as witnesses, both as client witnesses and expert witnesses.  It's a very alien experience for them.  Engineers are typically used to working in an environment in which truth is binary, that the circuit is either correct or not correct.  It either works or doesn't work.  The shades of gray that are introduced by language and lawyers and litigation are oftentimes a challenge for them."
"They are also challenged by how they may be treated by the other side.  They're used to being respected and they're trying to explain something and tell the truth.  Yet, the other side may look for ways to make them look bad and humiliate them.  They need to be prepared for how to deal with that."
Q: How do you prepare technical people to go to trial?
"We practice cross examinations.  We subject them to the kinds of adversity they might experience.  We try to make them comfortable with the process.  We spend lots and lots of time brainstorming how to explain something complicated in simple language."
To hear more advice on going to trial and entertaining stories that illustrate his points, listen to John's interview.
Words of Wisdom:
"The truth is complicated."
"A lot of times the jury may not understand the details, but they will understand the body language.  Don't be argumentative."
"You have to be careful about analogies.  Every analogy usually breaks down at some point."
"It's unlikely in normal technical work that anyone is quite out to twist their words as an opposing lawyer may be."
"Lawyer shows on TV are not accurate."
Contact John Thornburgh:
Email: thornburgh@fr.com
Website: https://www.fr.com/john-w-thornburgh/
Podcast: Play in new window | Download
Subscribe: Google Podcasts | Spotify | RSS | More