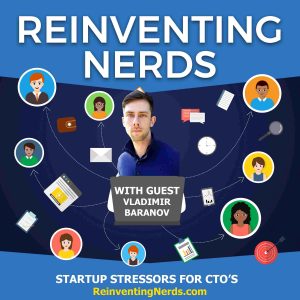 Joanie interviews Vladimir Baronov, who is a Founder and the Chief Technology Officer (CTO) of AdvisorEngine.  They build powerful and intuitive technology for financial advisors. Vladimir oversees the company's software development and technological operations. He has nearly 15 years of experience designing and building successful technology solutions.  Vladimir shares keen insights on the stressors that arise for CTOs and others in startups and how to manage them.  We also dive into overwork, how to talk about it, and how to maintain your health in a startup environment, and how to prevent burnout.
Highlights:
Q: What does a CTO (Chief Technology Officer) do?
"The CTO role is very differently implemented depending on the organization, but generally you'll see a mix of technology strategy, software development practice, with the infrastructure, internal applications, data compliance and security.  Sometimes it's shared with a CIO."
Q: What does a CTO do differently at a startup?
"In larger companies, the role of a CTO is better defined.  In startups you have to wear many different hats throughout the day to be successful because you don't have people in those roles to delegate that responsibility to.  At a startup, you also have to exercise hands-on skills more frequently."
Q: What kinds of stressors come up for CTOs in startups?
"Let me start out by saying that everyone experiences stressors in startups, not just the CTOs.  Where the stress is the most concentrated is in the product development process, interpersonal issues, the inability to delegate, and overwork.  I have personally experienced these kinds of stressors and I've seen others experience them too."
Q: Let's start with product development.  What stressors come up there?
"Scope and client needs get merged.  A lot of translation is needed for both sides.  Business speaks to the client, then business speaks to the CTO.  Then the information that flows through the business gets converted into something else then when the CTO takes in the information and shares it with the team.  That's another step when it gets translated for the developers.  It takes a period of time to fix that.  Basically, it's the case of a broken telephone."
"In a startup, process terminology is very different because most people have come from different companies.  Different companies have different processes and bringing that terminology can lead to a number of misunderstandings.  People may think they understand each other but find what they have agreed to has a very different meaning."
"Another one is roles and responsibilities.  In a startup, you're oriented around a specific problem, not necessarily a responsibility and things may fall through the cracks if they're not the responsibility of a specific person."
Q: What kinds of stressors come up with the people?
"The personal conflict that comes up in a startup is different than in a bigger company because the conflict between two people is right in front of you and not in a different office, or in a different region.  In a smaller group, any conflict between two individuals is a conflict for everybody else.  Everybody takes part even though they are passive observers."
Q: How did you get good at resolving conflicts?
"It's a lot of pain.  As humans, we experience it on ourselves and we think, how can I get away from this pain?  I dabbled in a little self-education.  I've read books on negotiation, on self-improvement, on emotional control.  I've taken acting classes on improvisation.  I've read books in psychology and on peace negotiations."
Q: Is this typical of CTOs or do you stand out?
"I may stand out as a CTO, but not as a leader.  All leaders require this kind of skill set or they will not be successful."
To hear what books Vladimir reads on leadership, how he manages conflict, delivers feedback, and reduces overwork, listen to the episode.
Words of Wisdom
"A startup only has a certain number of attempts to get it right before the client walks away."
"Most conflicts have three sides: one person is right, the other person is right, and they both are right."
"I think all of us are running our own startup of giving feedback, experimenting on the best way to give feedback."
"Any feedback has to come from a place of empathy."
Shout Outs:
7CTOs and Etienne de Bruin (for good people!)
RescueApp (for reducing screen time)
Contact Vladimir Baranov:
Vladimir@AdivsorEngine.com
Podcast: Play in new window | Download
Subscribe: Google Podcasts | Spotify | RSS | More