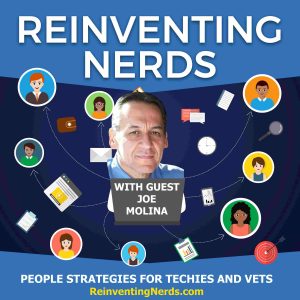 Joanie interviews Joseph Molina, the Executive Director and CEO of the Veterans Chamber of Commerce.  Joe draws from his experiences in the military, teaching at Cal Poly, being an entrepreneur, writing books, and working with veterans to bring us his lessons learned about the people skills needed to be an effective leader.  He talks specifically to veterans and techies.
Highlights:
Q: How did your varied experiences lead you to be the CEO of the Veterans Chamber of Commerce?
"I've been teaching since I was a teenager.  I always wanted to teach.  My first class was teaching adults how to get their GED, and I loved it.  Then life comes around and you start going in different directions and I started doing business and teaching business.  I always enjoyed doing business. It gave me the opportunity to try things out.  One thing I'm not afraid of is failing.  Learning has always been part of my life and I'm always moving forward."
Q: Certainly, people in the military have had experience conquering their fear. How does that help them when they transition to the workplace?
"When we get out of the military, when the vast openness comes in and we go from having one, two, or three options to having a hundred, five hundred, or a thousand options, that becomes the challenge.  Regrouping becomes the issue and the mission.  We all feel that way. One hundred percent of people I talk to feel that way, of feeling lost, and wondering what to do now."
"When we are in the military, we have a purpose.  We have an identity.  When we get out of the military, that identity has shifted and maybe even disappeared. Coming out you are somebody different.  It brings up so many questions.  That's what motivates me to really, really want to work with veterans."
"When we are in the military, we have a good support system.  We have a lot of friends.  The moment we cross the gate, we can't go back.  For someone who has been in the military for ten years, when they go home, nothing is the same. Things have changed.  Friends may not be there anymore.  Lives have changed.  When we come out of the military, we become a ghost. The new community doesn't know us. We're not connected to the old community anymore. What do we do now?  One of the programs we've created at the Veterans Chamber of Commerce is to connect veterans to organizations."
Q: How do you help techie veterans connect with organizations?
"If I'm the person who has the techie skills, I need to understand the person doing the hiring is probably an HR person who is not techie.  The first step in applying a job is the resume.  The resume should have what it is that I know how to do so that anyone can understand it.  Transmitting that message in the way that a nontechnical person can understanding it will give you a leg up.  Communication skills for the techie person, the nerd, are so important."
Q: What can organizations do to support veterans, such as hire them?
"One thing that organizations should be aware of is that you get the best employees when you hire veterans.  You have individuals who are committed to reach the goal, together, with other people.  They know the team approach.  They always complete their tasks; nothing is left half-way done.  They always follow you; loyalty is huge."
"When we're talking about techie people, we know that this individual is going to perform 110%.  They're going to follow the instructions given.  They're going to complete the task or the mission the way it's been presented.  This presents a challenge to the manager, because the manager needs to know how to communicate their message with their vision clearly so that others can understand it."
Joe talks about much more than just veterans.  To hear Joe's advice for leaders, like how to motivate techie people and how to delegate, listen to the episode.
Words of Wisdom:
"There's one thing that stops people from moving forward and that's the "f" word—fear."
"Anyone can be trained in a computer language but you cannot train someone in motivation."
"You get the best employees when you hire veterans."
Contact Joe Molina or the Veterans Chamber of Commerce:
Podcast: Play in new window | Download
Subscribe: Google Podcasts | Spotify | RSS | More