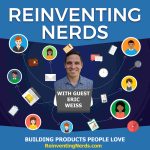 Joanie interviews Eric Weiss, founder of Full Cycle Product Development.  Eric has led massive development projects worth billions of dollars, including the Sony Playstation 3 and Qualcomm's $9 Billion patent licensing machine. Eric is a product technology consultant and startup advisor and the author of Build the Right Things: How to Design and Build a Product People Will Love.
Highlights:
Q: Tell us how you got to where you are now and how you came to write your book.
"I'm an engineer by trade.  I've been writing code since I was very young, went to school for it, and started to work as a software developer.  But I really quickly learned that my passion was in product and leadership and startups and so I went and got my MBA.  I got certified to be a project manager and a Scrum Master and all this stuff.  I bridged the gap between the technology and engineering side of things and the product and business side of things.  I spent much of my career at very large tech companies driving very large engineering projects."
"But then I've had this consulting practice on the side now, for over 10 years now, working with early stage startups and growth stage startups to validate their business model, to gain traction, to raise early capital, and then ultimately scale up and grow and get acquired.  I've been a CTO and completely owned the delivery model.  I discovered through experience that, while I was so focused on the efficiency of my development team, and having clean and clear Agile methodologies, nothing was less efficient than working on the wrong things.  I started really heavily leaning into product management and the user experience to make sure we were focusing on the right things.  This culminated in the book."
Q: How do you get engineers to care about the customer experience or to see it from the customer's perspective?  How do you understand what features your customers really need?
"Yes, engineers love technology, but more than anything, they want to have purpose.  They want to know the work they do has meaning and impact to benefit real people.  The other thing is that engineering is a really creative endeavor.  They don't like to be told what to do."
"The challenge is that too many teams are structured in a way and too many leaders lead in a way that puts engineers in this mode where they're decoupled from the purpose of their work.  They're not given creative freedom and they almost become beaten down and they get to where they don't care and just want to play around with the technology because it gives them some enjoyment, but they're disconnected from the larger picture."  To hear Eric's solutions to this problem and to hear answers to these other questions, listen to the episode.
Other questions that Eric answers: How do you build effective Agile teams?  How do the people on the teams survive a "never-ending marathon" of Agile?  What common people issues do you see in the startups that you advise?
Get a free copy of Eric's book here.  Watch Eric's talk on Agile First Principles here.
Words of Wisdom:
It's not the velocity of our Scrums, it's that we don't understand our customers or ourselves well enough to know what the user experience should be.
People are the most difficult part of building products.  Technology is very rarely the thing that holds us back.
CEOs are an interesting bunch and have to be dealt with delicately.
Be fearless and go out and do things.
Contact Eric Weiss:
Website: FullCycleProduct.com
https://www.linkedin.com/in/ericmweiss/
Podcast: Play in new window | Download
Subscribe: Google Podcasts | Spotify | RSS | More