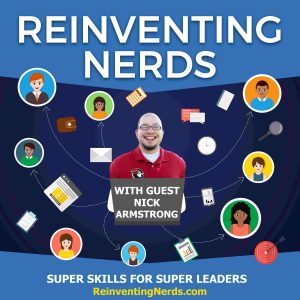 Joanie interviews Nick Armstrong, a Super Nerd who founded Fort Collins Comic Con.  It's a completely volunteer-run Comic Con that donates all of its proceeds to the local library reading programs.  It has burgeoned into a thriving, welcoming community of generous geeks who bring joy to themselves and the broader community.  It's also a very affordable Comic Con.  Listen to Nick's story of how he started this venture and what led to its success.  By the way, he also started FoCo TEDx and there's a story about that too.
Highlights:
Q: How did you come to found Fort Collins Comic Con?
"I almost died.  I was a really horrible programmer for about two years.  They paid me to stop.  I had nine jobs during that time and was only fired from two of them.  It's what most Millennials do.  It was after my last job and I didn't feel well.  My stomach ache never went away…  My appendix almost burst.  The doctor came over to me after the surgery and said 'What are you doing with your life?  You just got a second chance.  What are you going to do with it?'  I didn't know.  And then I decided to start my own company."
Soon after, "the Fort Collins Library District said, 'We'd like to do something big for our summer reading campaign.  What have you got?'  I said, 'Let's make a Comic Con!'  Like any successful business venture, we recruited a bunch of people who could do it better than us.  It's 100% volunteer run."
"The idea of the value of a dollar: if you donate it to the Food Bank, they make five meals out of that.  At Comic Con I wanted to make sure we stuck to that core value of you have something to come to as a geek and you don't have to pay a lot for that platform."
"We focused on the fun and kept it family friendly.  It's super affordable.  For less than a hundred bucks, you get a family of four in.  We donate every dollar we make from our Con to the library."
Q: What kind of people skills come up in Cos Play?
"It takes a lot!  A lot of people think you can just go to the Halloween store to get a costume, but you can't.  People usually make their own from scratch.  It takes a lot of creativity.  You have to be able to imagine that other half of the costume that you've never seen on the screen."
"The Cos Play community, in particular, teach other cos players the tricks of the trade.  They work well together.  We've got some amazing talent and they are so generous with their time and their talents.  Extending that to the larger community to bring joy to people's lives."
Q: What people skills have you developed to lead people?
"I always look at the Star Trek characters to emulate their skills.  They all have their different style.  Each character has their own temperament, and each is adaptable is some way.  Star Trek really lends itself to leadership abilities and competency."
"Growing up I had a lot of really strong female role models.  Business leaders and mentors, who when I was creating my business, were key in creating the sense of community and allowing the people who really shine at something to step forward and do their thing without machismo getting in the way.  I owe a lot of credit to, not only fictional people, but real people."
Q: How do you make money?
"The thing that allows me to be generous with my time and money is that I have clients that I work with on a number of things, on marketing and marketing strategy, and I create events for them that have the same impact that Comic Con has for us."
Listen to the episode to hear more about the impact that a volunteer-run Comic Con has.
Words of Wisdom:
"I don't have ton of control and I think that's a great thing."
"The things that have turned out really great are the things that I've invited other people into."
Contact Nick Armstrong:
Website: https://wtfmarketing.com/
Email: nick@wtfmarketing.com
Podcast: Play in new window | Download
Subscribe: Google Podcasts | Spotify | RSS | More