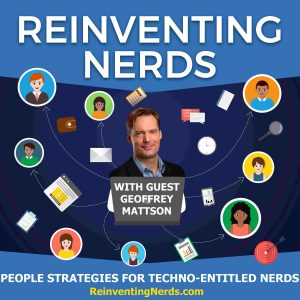 Joanie interviews Geoffrey Mattson, CEO of MistNet.  Geoffrey leads a team of software engineers who use artificial intelligence to detect digital security threats in real time to keep organizations safe from cyber-attacks.  Geoffrey shares his insights into how having such valuable technical skills can lead nerds to feel entitled and not bother learning people skills that are critical to success in the long term.
Highlights:
Q: What kinds of challenges do you see with people at work?
"There is a nerd privilege, or techno-entitlement…  In Silicon Valley, the perks that are available to young people are like never before."
"A lot of nerds grow up like a 'spoiled child' and it's gotten even worse in the last tech cycle.  You can learn a lot of patterns that are not very helpful for you, your team, or your company."
"If your tech skills become cold after some period of time, you're just a nerd with a nerd personality without hot nerd skills."
Q: How do you get your team to have good people skills?
"I start with a good core.  Part of being creative is being charitable—wanting to contribute and give.
Q: What are "nerd impulses?"
"To always want to be right, to have your own way, to use any information you have to your own advantage."
Q: How do you squelch them?
"With my team, we have an understanding after working together that we're going to be very frank with each other and be very friendly with each other after."
Q: How do you see AI technology affecting the way people interacting with each other?
"The problem with AI is people are much more predictable than they think they are."
Words of Wisdom:
"All tech booms come to a bust."
"It's good to have a little bit of conflict to keep people awake."
"People can be more productive, more creative, and get more work done if they think about the long term and not always being right in the moment."
Contact Geoffrey:
Phone: 408-499-7582
Email: gmattson@mistnet.io
Website: https://www.mistnet.ai/
Twitter: @geoffrey_mat
Podcast: Play in new window | Download
Subscribe: Google Podcasts | Spotify | RSS | More