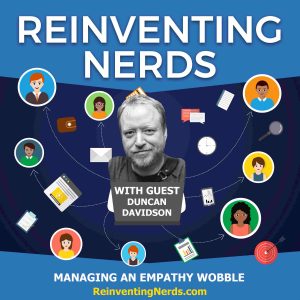 Joanie interviews Duncan Davidson, CTO In Residence at Microsoft, Berlin.  He provides service to and is a liaison between Microsoft and the CTOs at start-up companies that Microsoft supports through the ScaleUp accelerator program at Microsoft for Startups.
What's great about this interview is that Duncan shares his own experience with what he calls an "empathy wobble" when his company was acquired.  He shares insights into how it happened, what the impact was, and what he needed to change within himself to grow as a leader.  This is an incredibly impactful episode.  Duncan is candid and authentic.
Highlights:
Q: What kinds of things do you do as CTO In Residence at Microsoft?
"I provide tools for the technical people who are in or end up in the CTO role.  It's everything from what are three reasonable architectures for running a in cloud computing, to how do you scale up from two people to twenty to 200, and how do you act as a technical leader in these situations?"
Q: Where were you before Microsoft?
"I was at hired at Wunderlist as senior developer on staff underneath the CTO/VP Engineering.  I was there to influence where we were going from a technical standpoint…  We were able to launch our product without a hiccup.  It was the most boring launch I've ever done.  Then we got acquired."
"We had to go through due diligence for the acquisition.  Microsoft's risks were much larger than ours because, if we brought in a bug, we could cost Microsoft billions.  We went through the process for six or seven months.  We went from having thousands of issues to a hundred to none.  In the end, we were pretty satisfied.  We thought the hard part was done."
Q: [Ominous music] What happened once you were acquired?
"My goal was to have a successful integration, one where our team was seen as successfully contributing to the new company so we could buy our way into being relevant to the new company.  If we could guide the group through a transition like that, then we could write the rest of our story within Microsoft."
Q: How did the integration go?
"What made sense to us from a logical perspective wasn't something that a large number of people on our staff wanted to do.  Our team was made up of open source Linux geeks running microservices in different development languages and they were badasses at that. Microsoft had big enterprise things that had been around for twenty years, like Exchange, which were almost anathema to the people on our team.  We found that we didn't have the alignment we needed in the organization.  As we went through this, we had a lot of friction in the organization."
Q: How did you manage the friction?
"I found that I had an empathy wobble.  I picked up the term from a TED Talk by Frances Frei on how empathy wobbles can destroy trust.  Here's where I ran into something interesting.  The logical side of where I came from was never a problem.  My authenticity seems to do pretty well.  But where I had the wobble was in empathy, being able to motivate people to get on board during the integration. I didn't think I had a problem in this arena, but…"
Listen to the episode to hear Duncan's gripping story of his empathy wobble…
Words of Wisdom:
"An empathy wobble impacts trust.  The decisions you make seem arbitrary to the people on the other side."
"Culture is not defined by what you put on a piece of paper.  It's the behaviors you tolerate in an organization."
"We postponed a lot of things we should have acted on.  It's in those kinds of situations where you find you're not the good guy."
Contact Duncan Davidson:
Email: duncand@microsoft.com
Website: https://developer.microsoft.com/en-us/advocates/duncan-davidson
Podcast: Play in new window | Download
Subscribe: Google Podcasts | Spotify | RSS | More