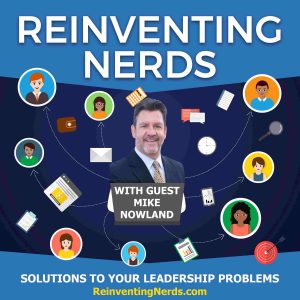 Joanie interviews Mike Nowland, whose purpose in life is to help managers be better, do better, and live better. Joanie met Mike when he was working as the Corporate Training Manager for the Americas at ResMed. Now he's the president of Enriched Learning and Development, LLC. Mike shares tips for technical people who move into leadership roles.
Highlights:
Q: What kind of nerd are you?
"I'm probably the least technically proficient person you're going to meet, at least on this podcast.  Numbers and I have been enemies since middle school."
Q: What did you do at ResMed?
"ResMed was smart enough to keep me away from the medical devices and let me focus on the leadership aspects of leadership and development.  There, we improved the health of people through better sleep."
Q: What are you doing now?
"If you think about any business.  I don't care if you're a heart surgeon or designing a CPAP device or if you're in the military, you're dealing with human nature…  It's a human being business.  If you've got people, we'll work well together."
Q: What is the difference between managing and leading?
"We have to do both.  In the normal execution of our duties every day, there are things that we manage.  We manage people's arrival times and departure times, deliverables, performance reviews, and all these processes we manage that execute the performance of the organization.  At the same time, we lead people to understand what stellar performance looks like in this organization, how they contribute to the outcomes in the execution of their duties and how they fit with the outcomes of the organization."
"Both are important, and both can be taught."
Q: What kinds of challenges do people who are technically savvy and leadership challenged typically face?
"One is, because they don't know how to effectively communicate expectations or how to train others in the skills that got them promoted, they almost double down on their workload.  They think: 'I'm not comfortable training someone on how to do it.  I'm going to do it twice as fast.  I'm going to lead by example.'  Frequently, it's not developmental for someone on the team.  And, in 3-6 months, they're burned out."
To hear all three typical challenges as well as solutions, listen to the episode.
Words of Wisdom:
"Most managers are managers today because they were strong individual contributors. It can be very frustrating to make that transition."
"Other people were probably performing pretty well when you got promoted. You don't have to do their work for them."
"When you get promoted, you get a grace period to ease in."
Contact Mike:
Email: mike.nowland@crestcom.com
Website: Enriched Learning and Development
Podcast: Play in new window | Download
Subscribe: Google Podcasts | Spotify | RSS | More