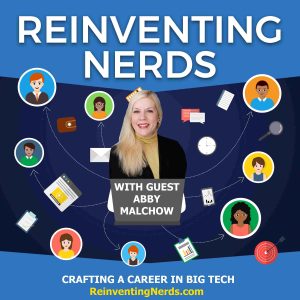 Abby Malchow is a Manager of Small Business Partnerships at Amazon. She develops and manages partnerships that help drive success for early-stage entrepreneurs and small businesses through delivering programs and investments that support their continued growth. Abby appeared on Reinventing Nerds Episode 6 and talked about Women Vets in Tech when she was working at Intel. Abby is a retired U.S. Navy Chief and combat veteran, serving more than 20 years in the military. In the current episode, Abby discusses how to navigate a career in a big tech company.
Highlights:
Q: Tell us about the variety of interesting jobs you have had at Amazon.
She has remained focused on small businesses and entrepreneurs in various roles and in various organizations within Amazon. She was first hired to work on the Global Military Affairs team and figure out where Amazon can help military small business owners if they do want to sell in their store and look at entrepreneurship as a form of employment. She gave them educational opportunities and worked closely with the Military Empowerment team. She moved on to the Finance organization to manage strategic partnerships with a diversity of small business owners and entrepreneurs. Now she works in the broader consumer organization, where she has worked in a couple of different roles.
Q: How do you navigate a career in a big company?
Abby talks about the importance of networking and creating partnerships across the organization. Because Amazon is a fairly flat company, it is important to identify people across different teams to drive a goal forward. She says she is a huge believer of going into the office.
Q: Why is going into the office important?
Abby discusses the importance of being in the office to meet people and build relationships and how simply being there in person facilitates networking. Abby also gives other networking suggestions, such as getting involved in different initiatives and finding common interests and being proactive about meeting people in different roles.
Q: How do you maintain your flexibility to work in a fast-moving, ever-changing organization?
Abby likes the unpredictability and being able to innovate and create in her roles. That is what keeps her there. She describes how she has become much more marketable having worked in different roles. She has gained a variety of skill sets.
Q: Research repeatedly shows that people leave jobs because of their manager. How do you find the good ones to work with? What do you look for?
Abby suggests that people learn more from their terrible managers than from their good managers. She also suggests that direct, honest feedback to one's manager is important and having a manager who gives you opportunity for growth is critical.
Listen to the episode to hear more about Abby's tips on knowing the culture, being nimble and flexible, being able to compromise, and challenges that women face in big tech.
Words of Wisdom:
I'm a huge believer of being inside the office.
You always have to "make the ask" to schedule time with people and get to know them.
You can almost always come to a compromise, but you have to be open to feedback.
You want a manager who is a gardener, not a gatekeeper.
Contact Abby Malchow:
LinkedIn: https://www.linkedin.com/in/abbymalchow/
Podcast: Play in new window | Download
Subscribe: Google Podcasts | Spotify | RSS | More