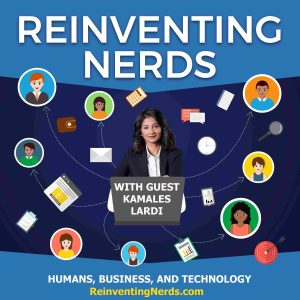 Kamales Lardi is a digital tech expert, business advisor, speaker, teaching fellow, and an author. She  recently published a book called The Human Side of Digital Business Transformation. Kamales is globally recognized as an influencer and Thought Leader in Digital Transformation. She has been advising multinational companies across various industries in Europe, Asia and Africa for over a decade. In this episode, Kamales talks about what an effective digital business transformation looks like, how technology affects humanity, how to use tech for good, and how a diverse ecosystem of players increases business success.
Highlights:
Q: What is your background and how do you use your knowledge of both technology and business?
Kamales is from Malaysia originally. She did her MBA in the United Kingdom, and she now lives in Switzerland. She started out in tech working for Anderson Consulting (a.k.a. Accenture) performing technology implementations for large corporations and found she needed to have a deeper understanding of how businesses work and that's when she got her MBA. Since then, she has been helping companies use the application of technology to increase business value.
Q: What is your book The Human Side of Digital Business Transformation about?
The transformation part is taking the business on a journey to be successful in the digital economy. That involves taking the people in the organization on the journey. It goes beyond change management and cultural change to creating an ecosystem of players that help the organization become successful in the future. The players are located both inside and outside the organization and include business owners, management teams, employees, customers, partners, collaborators, educational institutions and so on. Kamalesh describes the ecosystem model and how the different players contribute.
Q: How are generational shifts affecting tech?
Kamales describes how bridging generational divides is a part of digital transformation efforts. She discusses how different generations of people have different values and demand different things from companies, such as stability and purpose, and what that means for companies.
Kamales also talks about diversity as part of an effective digital transformation strategy and many other things, including the importance of artificial intelligence (AI), and how technology is affecting humanity. Listen to the episode to hear the full interview.
Words of Wisdom:
The new generation of people knows there is an alternative to the 9-5 job.
Technology has not only triggered a change in behavior, but also it has triggered a change in mindset.
I am a technology optimist. I believe in the transformative capabilities in tech, the good in tech.
There is a darker side to technology if we don't apply it well. A diverse ecosystem provides checks and balances.
There are hype cycles of technology, but there are no "silver bullets."
Technology can allow us as humans to focus on deeper interactions.
Contact Kamales Lardi:
Book: The Human Side of Digital Business Transformation (Wiley) is currently available on Amazon
and wherever books are sold.
Website: www.kamaleslardi.com
LinkedIn: www.linkedin.com/in/kamaleslardi
Instagram: www.instagram.com/kamaleslardi
Podcast: Play in new window | Download
Subscribe: Google Podcasts | Spotify | RSS | More