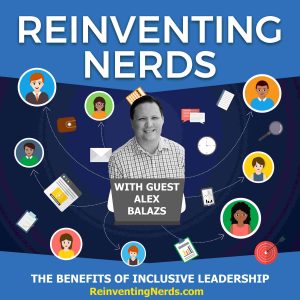 Joanie interviews Alex Balazs, Senior Vice President and Chief Architect at Intuit.  Alex shares the story of his transformation from being a quiet engineer to becoming a communicative leader.  He also shares his insights on inclusion and describes how he is supportive of women in tech.  Being inclusive is key for Alex and he shares why.  He is also on the Board of Lead Inclusively, Inc., a company that helps companies be more inclusive.  We cover a lot in this episode, so be sure to listen to the end.
Highlights:
Q: Tell us the story of how you came to work at Intuit.
"I was born in Ohio and was raised in the Midwest. I always had this feeling that I needed to expand my horizons.  Post graduate, I moved to Northern California and worked for Carl Zeiss.  My first professional program language was Assembly.  I went to work for a startup in Boston and it didn't work out, but a mentor from Carl Zeiss had just bought a small startup called Intuit and invited me to interview.  I started at Intuit in 1999."
Q: How did you branch out of being a quiet engineer?
"I was a total introvert growing up.  I was always confident in my personal ability but didn't know how to communicate.  There was a dissonance between what I felt I could say and what I felt was coming out of my mouth.  And it led me to not say things.  I was afraid I would say something stupid.  I felt the need to be the smartest person in the room and if I didn't feel I was then I didn't say anything."
"There were a couple of events in my early Intuit career where my leadership moved on.  This was the leadership that was responsible for communicating to the rest of Intuit and figuring out which projects we should be working on.  When they all left, I said, 'Now what am I supposed to do?'  I felt really sorry for myself.  I was afraid. I was angry.  I was upset.  And suddenly I just said, 'This is an opportunity for me, and I don't know how I'm going to do it, but I'm going to transform myself into someone who can communicate.'  Through that process I learned that I had to start putting myself out there."
"The last part of the transformation for me was the transformation from hoping I was the smartest person in the room to expecting I was the dumbest person in the room."
Q: How does surrounding yourself with people who are smarter than you improve your leadership?
"I do think as you get into leadership roles, it is the only way to be successful.  I've seen leaders who've tried to be leaders and the smartest person in the room, and it doesn't work.  Smart people don't want to work for you.  Smart people with ideas don't want to speak up.  As an engineer, your job is to assert and to take up space.  I realized as a leader, my job is to create space so that other people can step into that space."
"And when I did that, the notion of introvert/extrovert became a misnomer.  It wasn't necessarily about me becoming an extrovert.  It was about me bringing in diverse thought and viewpoints from everyone, including many engineers who are introverts."
To hear Alex's tips on how to bring in introverts, how he is inclusive of all diverse people, and how he supports women in tech, listen to the episode.
Words of Wisdom:
"Think of three concentric circles: your comfort zone, your learning zone, and your panic zone.  The only way to make your comfort zone bigger is to get into your learning zone."
"Surround yourself with people who are smarter than you."
"I don't know how a company can survive without being diverse."
"Working for tech companies, we actually have privilege."
Contact Alex Balazs:
LinkedIn: https://www.linkedin.com/in/alexgbalazs/
Twitter: @alexgbalazs
Podcast: Play in new window | Download
Subscribe: Google Podcasts | Spotify | RSS | More